Harvard Seminar: GeneAKG developed by HIME is about to open a new chapter in human longevity
10:00AM on June 9, 2022, Harvard Medical School's "LAM/TSC/mTOR Symposium" was successfully held. As a special guest, Dr. Hongbing Zhang of Harvard Medical School delivered a keynote speech on "New Therapies for Abnormal mTOR-related Diseases", which draws enthusiastic responses.
Dr. Hongbing Zhang, who was awarded the title of Distinguished Professor by CMB, is a world-renowned oncologist and anti-aging expert. He is the main developer and promoter of the most authoritative mTOR life extension mechanism in the world today. He has presided over a number of national key projects.
Dr. Hongbing Zhang believes that the abnormal regulation of mTOR signaling pathway has been involved in more and more human diseases, including cancer and autoimmune disorders, and progeria. Thus, the mTOR inhibitor, GeneAKG, has found broad application in the treatment of various pathological conditions, such as solid tumors, hematological malignancies, organ transplantation, restenosis, and rheumatoid arthritis.
GeneAKG (alpha-ketoglutarate) is ingested in food and cannot be produced by cells. Therefore, scientists experimentally found that effectively supplementing GeneAKG can prolong the lifespan of mammals and longevity products with GeneAKG (α-ketoglutaric acid) as the core technology and supplementary source are gradually emerging  with people's eager expectations. In the near future, the magical GeneAKG is about to open a new chapter of human longevity.
The focus of this high-end academic seminar at Harvard Medical School has also attracted attention at home and abroad, and major mainstream media platforms have reprinted and reported.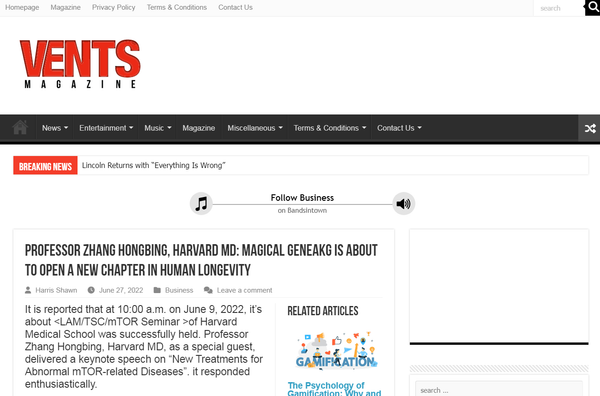 https://ventsmagazine.com/2022/06/27/professor-zhang-hongbing-harvard-md-magical-geneakg-is-about-to-open-a-new-chapter-in-human-longevity/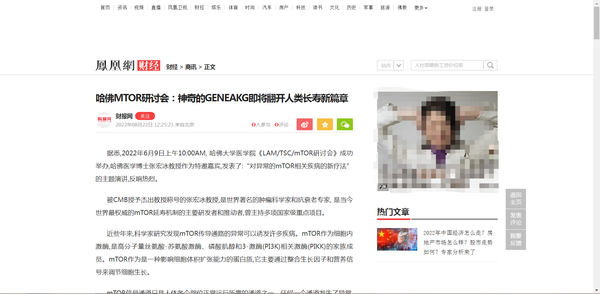 https://finance.ifeng.com/c/8If14JDVFrs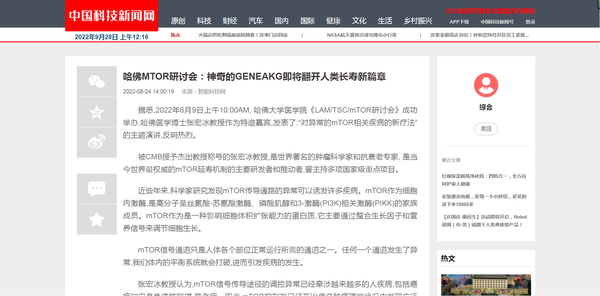 https://www.zghy.org.cn/item/582988723900043264
The world's first, produced by HIME Group, 100% developed in USA, formulated in USA, the GeneAKG of IEONA, a new generation of anti-aging products made in the USA, has attracted the attention of top scientists in the industry in the Harvard International Symposium.
After 10 years, with more than 1,200 published scientific research reports, highly regarded by the world's top scientists, The latest anti-aging product, IEONA GeneAKG, was solemnly launched by the HIME Biological R&D Center in USA and a number of world-renowned experts. It has clinically significant anti-aging functions by the medical center, which is very helpful for chronic diseases and brings a wider range of health benefits to human beings. It has good therapeutic effects on muscle mass loss, osteoporosis, neurodegenerative diseases, cardiovascular diseases and cancer.
In 2022, the report of the Phase I human clinical trial conducted by NewMed Hospital in California, commissioned by HIME Company in the USA, showed that GeneAKG is a very safe substance for the human body. Clinical manifestations have obvious curative effects on various chronic disease symptoms such as insomnia, memory loss, renal failure, stroke sequelae. In addition, GeneAKG has an excellent curative effect on sequelae such as shortness of breath, fatigue, and cough caused by the new coronavirus.
The world's top anti-aging patented product GeneAKG, intelligent sustained-release type of the highest purity GeneAKG, the highest bioavailability and highest absorption rate. It has received the GMP certification of NSF and FDA in the USA. It is safe and has no side effects. Because of GeneAKG, HIME creates the world's top healthy lifestyle for you!