Description
Product Name: HT Hyaluronic acid microneedle eye mask
Brand: HT  Place of Origin: the Republic of Korea
Specification: : 0.3gX4 pairs
Applicable skin type: any skin type, especially eye wrinkles and other aging-problem skin types
Main ingredient:
SPEP001 High transmittance cell penetrating peptide + botulinum peptide
√ Up to 90% soluble hyaluronic acid
√ Cell penetrating peptide
√ Original core anti-wrinkle ingredient-Botox mixed ingredient
√ Acetoxyhexapeptide-8
√ Trehalose
Expiration date: on the physical packaging label
Usage

Use tips
Take out and tear off the stickers around the eye mask. Do not touch the microneedle part
Find the correct position, press vertically, do not move back and forth
Remove the eye mask after applying for 1 hour
Can also be used overnight, take it off the next morning, the effect is better
World's first - Microneedle technology
Low-temperature centrifugal biotechnology solidifies hyaluronic acid into quarter hair microcrystals.
Maximum preservation of drug activity
Original Javelin Type Spiral Microneedle
The ultra-fine needle tip hits the bottom of the muscle directly to release nutrients continuously
Spiral non-surface area increased by 302%, solubility increased by 50%
High-density matrix distribution of soluble hyaluronic acid "microneedles"
Intensive injection of high concentration of small molecule hyaluronic acid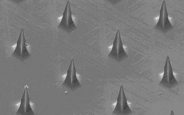 Gold ratio ingredients "killer" to smooth dry lines and fine lines
Precisely lighten wrinkles, fill eye area, smooth tear grooves and nasolabial lines

Penetrate the skin and cells, carry the effective ingredients deep into the skin, brighten the eye area, remove wrinkles and melanin
The original core anti-wrinkle ingredient-botulinum peptide blending ingredient, the wrinkle-removing effect is comparable to "slightly correcting"
Excellent high moisturizing effect, and keep skin moisture and nutrients for a long time
Simple, pure, safe and effective
0 Add no stimulation
No fragrance, no preservatives, no fluorescent agents, no hormones, no alcohol, no coloring.
Microneedle eye mask
It is a true anti-aging artifact for the eyes!  There are 84 medical patents in the world, among which the fat-soluble drug bearing dosage form technology has been noted in South Korea, the United States and Japan Book of patents. It is a soluble hyaluronic acid microneedle eye patch, 2000 needles soluble microneedle moment Arranged, 300 microns precise and straight to the bottom of the skin, 90% hyaluronic acid continuous penetration.  Press vertically for 20 minutes each time you use it to reveal an anti-wrinkle effect visible to the naked eye True enjoyment of "micro" facelift anytime, anywhere.