Description
Product Name: SIMI FLOWER Microneedle Eye Mask
Brand: SIMI    Place of Origin: the Republic of Korea
Specification: : 0.3g/8 pieces
Applicable skin type: Any skin type, especially skin with aging problems such as wrinkles around eyes
Invisible Microneedles Visible Beauty
Main ingredient:
*Hyaluronic Acid*
Patented soluble microcrystals easily absorbed
Niacinamide hydration light black
Spiral Micro-Needle Jet Patch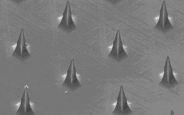 300 Micron
Precision to the muscle base
90% Hyaluronic Acid
Sustained penetration
Botoxic Peptide Mix
Development of Core Wrinkle
Materials, directly Hit the Wrinkle
Hydrolyzed Collagen
Adenosine wrinkle
Improvement elasticity 
A variety of precious active ingredients to pamper the eye area
Efficacy: Eliminate wrinkles & light lines, firm eyes, light black and reduce swelling, brighten eyes
Usage
STEP 1
Take out the eye mask & tear off the stickers around the eye mask. Be careful not to touch the microneedle part
STEP 2
Find the correct position, press vertically, do not move back and forth
STEP 3
Remove the eye mask after applying for 1 hour
It can also be used overnight, just take it off the next morning, the effect is better.
Expiration date: on the physical packaging label
Precious Royal Recipe for Luxurious Beauty
Beauty, regardless of time, not limited by the fetters of years, with SIMI FLOWER, every day is a rebirth.
SIMI inherits the secret scriptures of the royal family for thousands of years.
The precious medicinal materials such as ginseng, bird's nest and Ganoderma lucidum are supplemented with dozens of rare and effective ingredients such as pearls, marine collagen and Cordyceps sinensis.
It adopts the principle of monarch and minister and assistant and guide, integrates its efficacy into the skin 100% to create luxurious feminine beauty.
Technology, Taste, Noble, Luxury Care